Lets Colour Global Arts Project

Last year, as part of the Bronze Arts Award, students from Chantry and Newminster in Year 8 have been working collaboratively to create 4 large murals to go up in the school grounds. Dulux have funded the project through Groundwork North East.

Each board represents a spiritual, moral, social, and cultural theme. The students developed their ideas together and used the Dulux weathershield paints with imagination.
The current Arts Award group are busy designing boards for Chantry, using different interpretations of SMSC: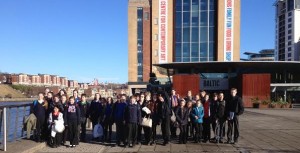 Cultural – 'My design represents different countries and cultures interacting in a modern, technological world' Emma Loughnane, Chantry
Moral – 'I was inspired by Michelangelo's hands for my own design. I have used lightening to show the connection between people' Kate Seymour, Chantry
Other Projects
German art competition in collaboration with Newcastle University
The Suffragettes sculpture project with Sanderson Arcade
Arts Award showcased at Sage Gateshead for the North East Arts Award Conference
Pitman Painters art workshops at Woodhorn Museum for all Year 6 students
Rutherfords Christmas card competition
Performing at Sage Gateshead with the Morpeth Partnership schools for 'A Night at the Movies'
Annual carol service at St James Church