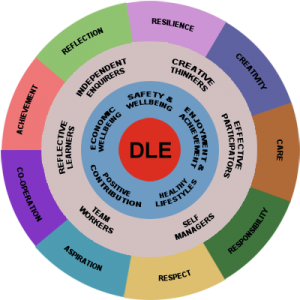 Deep Learning Experience (DLE) embraces a range of different learning activities which are designed to develop a broad range of skills and to develop social, moral, spiritual and cultural understanding. Pupils' personal development comes through engaging in activities which set out to encourage independence, adaptability, imagination and curiosity and providing opportunities to contribute positively to their school or local community. DLE sessions take place on Friday afternoons.
Examples of DLE Projects in 2018/19 include:
KS2
Personal Safety 
Throughout Year 5 and Year 6, developing a deeper understanding of personal safety issues is a hugely important part of the curriculum. Activities and events supporting this are wide-
ranging.  Workshops on anti-bulling, visits to and from the fire service, police workshops and e-safety all feature. Assemblies and tutor time activities further reinforce and develop these ideas.
Enterprise 
In both Year 5 and Year 6 students embark on group enterprise projects. In Year 5, students complete a 'making money grow' project in collaboration with Virgin Money. Students are
challenged with turning £5 into as much profit as possible, culminating in an Enterprise Fair for the year group. Students are required to take responsibility for developing teamwork, co-operation, compromise and creativity. Final profits made are re-invested into activities and resources for the students.
In Year 6 students develop these skills further through the completion of an 'upcycling' project. Students apply great innovation and creativity, turning boxes into bedside tables; clothing into cushions and buttons into bracelets!
Outdoor Learning
We are introducing a new DLE module in Year 6 which will involved the students actively working on developing knowledge and understanding of our outdoor environment. Students will work in collaboration over the course of the year to transform our outdoor nature reserve.
Christmas Production
In the second half of the Autumn Term, Year 5 students embark on planning, rehearsing and performing a Christmas Production for their parents. All students are involved and are required to work co-operatively, learn lines, act and sing and perform with confidence. It is a highlight of our Christmas programme and we have seen some real stars for the futire begin to emerge!
KS3
Health and Well-being
In Year 7 sessions are delivered by a Relate-trained counsellor to encourage pupils to think about different types of relationships and what constitutes healthy and unhealthy relationships. Pupils learn to identify some of the signs of an unhealthy relationship, and to develop skills to help deal with the problems and strategies for dealing with change in relationships. 
Pupils explore the characteristics of mental and emotional health and strategies for managing it; to manage growth and change as normal parts of growing up. Pupils also consider how best to cope in an emergency and how to deal with anxiety and stress. Pupils learn to recognise bullying and abuse in all its forms, and to have the skills and strategies to manage such situations.
In Year 8 students move on to develop a more detailed understanding of issues relating to personal welfare and staying safe and they complete workshops on:
First Aid
Drugs and alcohol misuse
Anti-social behaviour and road safety (police talk)
Sexting and cyber-bullying awareness
Sex and relationships
Students complete the unit by completing a 'random bake of kindness' – focussing on recognising that small positive gestures can make a big difference to people!
Outdoor Learning
Throughout KS3 students undertake a range of different Outdoor Learning Experiences. In Year 7 the focus is on team building activities within and outside of the school grounds to develop new skills and experience new activities. This includes canoeing, kite making and orienteering. 
All students in Year 8 will have the opportunity obtain a bronze and silver Young Navigators Award during this Year 8 DLE carousel. The sessions will allow students to participate in a range of team building activities and wilderness/survival skills including map reading, bushcraft, camp-fire cookery, orienteering and cooperative navigation. These outdoor activities are designed to help the students experience and enjoy the natural world by engaging them in fun and interesting activities.
Community Projects
In KS3 students take part in two very different community projects. The first project, in Year 7, allows pupils to research 'The History and Development of Morpeth', from the earliest Anglo Saxon
settlers, the impact of the Norman Conquests to current day. They work independently, using ICT, on targeted research projects to present to their peers.  Areas of study include 'Morpeth Olympic Games,' the suffragette Emily Davison, the Morpeth Guilds and Lord Collingwood. Pupils also visit the Town Hall to meet the Mayor, visit the 'Parlour' to see a display of historical artefacts and take their seat at a mock Council Meeting. To complete this experience, pupils have an opportunity to learn some traditional dances, including the Morpeth 'Rant'.
In a second project in Year 8, students investigate the issue of 'Homelessness'. The children will learn about the struggles that being homeless brings. They will have a guest speaker coming into school to talk to them. She has a wide and varied wealth of experience working directly with homeless people through charities. The children will focus on 'what home means to them' in the form of poetry writing. They will also make up toiletry bags to be distributed to the homeless community, they will make toiletry bags and flannels from old towels and their sessions will culminate in them cooking for the homeless community. The children will learn that there are different kinds of responsibilities, rights and duties at home, at school and in the community, and that these can sometimes conflict with each other. They will also learn to reflect on spiritual, moral, social, and cultural issues, using imagination to understand other people's experiences and also recognise the role of voluntary, community and pressure groups.
Careers
Careers education, information, advice and guidance (CEIAG) is a hugely important part of our curriculum offer. We have a programme in place from Year 5 and which develops into a comprehensive Year 8 offer. Students attend a Careers Conference as delegates, visit
Newcastle University and College and visit the Sixth Form at KEVI in order to build an understanding of what the future possibilities are. Students also complete workshops looking at the skills required to be successful in the world of work, information required in a CV and how they can make themselves stand out.
More detailed information can be found by looking at the Careers area of this website.