Educational visits provide opportunities to extend young peoples' learning beyond the curriculum and to enrich their understanding and appreciation of themselves, others and the world around them.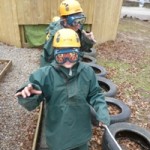 We seek to ensure that every pupil has access to a wide range of educational experiences as an entitlement. We believe educational visits and offsite activities offer immensely enjoyable, memorable and life enhancing experiences.
Residential opportunities, physical challenge and adventure can have a particular part to play in the development of personal and social qualities for all young people.
Residential visits on offer in 2018/19 are:
Y5 – Robinwood (outward bound activities)
Y7 – Ski trip
Y8 – Paris
Y8 – London

In addition to residential activities we also offer a range of day visits including the Fire Service (Safetyworks), Beamish, The Centre for Life, local Art Galleries and University Visits as examples.