As part of our ongoing drive to help parents stay informed of what's happening at school, we're using School Gateway – a website and smartphone app that shows information relating to your child(ren)
You will be able to view the following information:
Confirm places on school trips
Give consent for school activities
View achievements
View behaviour issues
Payments
Monitor attendance and inform school of unexplained/future absences
Check the contact details that our school holds for you
View assessment results
Find useful school details such as telephone numbers
View the contact details of parents and carers that our school holds for your child
View details of any medical conditions that our school has on record
Not used School Gateway before?
Activating your School Gateway account is quick and easy to do. All you need are your email address and mobile number that school holds on record for you.
Download the app
If you have a smartphone, please download School Gateway from your app store (Android and iPhone). The app shows the same information as the website PLUS you can message the school for FREE – this will also save the school money when we send you a text message.
*** We're aiming to get 100% of parents using the app – please help us achieve this ***
This is the School Gateway app logo: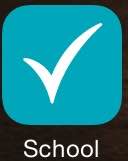 Note: If you are downloading it onto an iPad, once you search for "School Gateway" you will need to select "iPhone apps" rather than iPad apps to see it.
OR
Visit the website
Visit the School Gateway website and click on 'New User'. You'll receive a text message with a PIN number.
Use this PIN to log into School Gateway.
Trouble logging in?
It may be because the school doesn't have your current email and mobile phone number on record. Please contact the school via sharon.patterson@the3rivers.net and she'll update the details on our system.
Trouble with payments?
Please contact Sarah Hall sarah.hall@the3rivers.net who will be able to help you.
We hope that you will find School Gateway a valuable way to keep up to date.