Our Student Voice representatives are democratically elected at the start of the year. Through the Student Voice, we intend to enhance the quality of life of students and staff from a student perspective. It hopes to ensure that students' opinions are considered in the day to day teaching, administration and future plans of the School.
Our Student Voice aims to: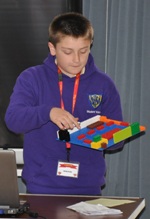 Represent the views of all students in our school.
Participate in real decision making.
Provide opportunities for students to develop skills and confidence.
Introduce and develop initiatives which promote 'Student Voice' across the school.
Communicate our work clearly to students, staff, the Board and the wider school community
Work with staff and students to improve the quality of relationships, teaching and learning, environment. e.g. students as learning partners, students as researchers and peer mentors.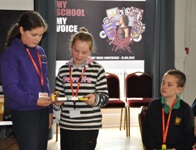 The Student Voice engage in various projects throughout the year and have regular discussions at meetings and our school VLE forum. At the beginning of each academic year they identify a range of charities that they would like to support over the year after consultation with all our students. Refer to charities page for further details.
Takeover Day
Takeover Day provides children and young people with a chance to work with adults and be involved in decision making within the school.
The Student Voice members benefit from experiencing the world of work, managing extra responsibilities and developing collaborative working skills.
Leading up to the day the students are required to attend an accelerated teacher training course. On the day, the pupils are encouraged to adopt a smart casual dress code and deliver a range of different lessons. in addition, they are expected to carry out other day to day duties, such as working in the office and breaktime supervision.
Here is what our students and staff had to say about Takeover Day:
'It was fun to see how much work teachers have to do to carry out only one lesson' (Claudia Smith, Year 8).
I was nervous at first but I got used to the pressure of being a teacher and found it really enjoyable towards the end. It was an interesting day' (Rosie Havery, Year 8).
'A fantastic day for the students. They delivered great lessons which were planned well and faced the day with a positive, mature attitude' (Mrs Ayres).
Work Experience
As part of an enrichment fo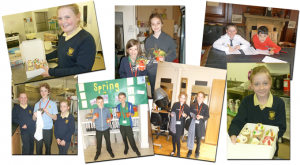 cus, Student Voice pupils from Newminster Middle School were provided with the opportunity to gain work experience in various placements within Morpeth Town Centre.
The aim of the project was to provide pupils with real-life experience of presenting information, undertaking meetings with members of the public and managers/owners of businesses and most importantly, developing invaluable entrepreneurial skills.
The Student Voice team independently organised their placements during a 'meet and greet' session on the 26th April and following this, undertook work experience in their chosen venue on the 10th May. In addition to their work experience in the town centre, the Year 8 Student Voice team also spent time at KEVI working alongside staff completing a range of tasks. Year 8 pupil James Todd said 'I found the experience valuable towards my future and a very fun and exciting way to see what it is really like to work with the general public'.